Forums • News • Online Games • Online Info • Game Scheduling • Guides • Our Servers • Contact • Links
| | |
| --- | --- |
| | It is currently Sat Mar 08, 2014 1:11 am |
All times are UTC - 5 hours [ DST ]



Welcome to Dreamcast Talk

Established, 2004.

Join our IRC channel, Planetweb Browsers: pwchat://irc.freenode.net:6667/#dc-talk Else: http://webchat.freenode.net/ on channel dc-talk, or irc://irc.freenode.net/#dc-talk if you have an IRC client.


---
1.18.2014
Redux: Dark Matters Shipping Soon - Comments


Small update: Redux: Dark Matters ships on January, 27 2014 from Hucast.com

Regular Edition: http://hucast.com/product_info.php?info=p12_redux-dark-matters-re--sega-dreamcast-.html
LE with DUX 1.5: http://hucast.com/product_info.php?info=p16_redux-le--2-disc-incl--dux1-5-.html

-Impulse


---
12.24.2013
ToeJam & Earl 3 Dreamcast Beta Released - Comments


Thanks to ZakhooiTM over at Assembler Games for releasing this little gem in time for Christmas. Release topic: http://www.assemblergames.com/forums/showthread.php?49322-Release-ToeJam-amp-Earl-3-Dreamcast-Beta

Possible Issues with playability:
"Q : What about stability ?
A : I found however that the game is becoming more unstable as you go through the levels. Levels 1 to 9 are stable, none to very few lockups. From level 10 and up, lockups become more frequent, however I was able to get to Level 12, so it is possible :)"

Download link: Mediafire download

*Note: Be sure to choose Overburn CD option in Disc Juggler(under Advanced Tab) or whichever application you use to burn with.

-Impulse


---
12.4.2013
Dream in the Dark (Alone in the Dark) new port - Comments


Corbyn is working on a Dreamcast port of Alone in the Dark I and II. It will be playable if you have an original copy of Alone in Dark and the demo might also work according to Corbyn.

At this time the port is playable on Windows and Linux and in the progress of converting to SDL on KOS. Alone I works and Alone 2 has some issues, Alone III is not playable currently.

Check out a running preview:


-Impulse


---
11.13.2013
Dream3DGE Engine Release 1.29 - Comments



Isotope Studios released source code for their 3D game engine that was also used to develop the Hypertension project. Source available here: http://sourceforge.net/projects/edge2/files/3DGE%20SOURCE/DreamEDGE/ The Dream3DGE engine supports Split Screen Multiplayer and Quake 2/Quake 3 models.

From Developer Corbin: "Hope to see some good games built with this technology, as it surely should open the door for more independent DC development. Commercial PC games are still being built with our parent engine as well so don't give up hope - we will do our best to support these efforts."

More from Corbin: "What we hope to achieve with this first release is to get people who are interested in developing either Mods or Total Conversions of DOOM to jump on the bandwagon, as an easy alternative to the bigger engines that are harder to develop. Since mod making for DOOM is bigger than ever (http://www.doomworld.com/vb) people can learn with relative ease.

However, EDGE inhabits a niche market of DOOM engines since it's not as "advanced" as others. Obviously, this is false as Hypertension used the technology all the way up to it's cancellation (and now, the remake). So, we encourage any future users to navigate to our forums and create an account, because very few people outside of our own community know how to support the definition, RTS, and HUD scripts that's at your disposal.

Over there, we have compile instructions for the impending source code release. So, for people who just want to play DOOM/II/HACX/CHEX/HERETIC on the console, they'll be able to. Along with a host of mods (they must be pre 1.29, though), it should be quite exciting. Though, my ultimate goal here is to provide the everyday mod maker/beginner a chance to develop their own first-person adventure for the console. No doubt that this release will help that cause."

Find support for the Dreamcast Dream3DGE engine on the Isotope forums: http://www.tdgmods.net/smf/viewforum.php?f=30
Source: http://sourceforge.net/projects/edge2/files/3DGE%20SOURCE/DreamEDGE/
Official Website: http://tdgmods.wix.com/isotopestudios

-Impulse


---
9.9.2013
Happy NA/US Release Birthday Dreamcast! - Comments


This baby is getting old but we still love it :)

We're working on some cool things here at dc-talk. Be on the lookout for some extra online functionality for your games soon.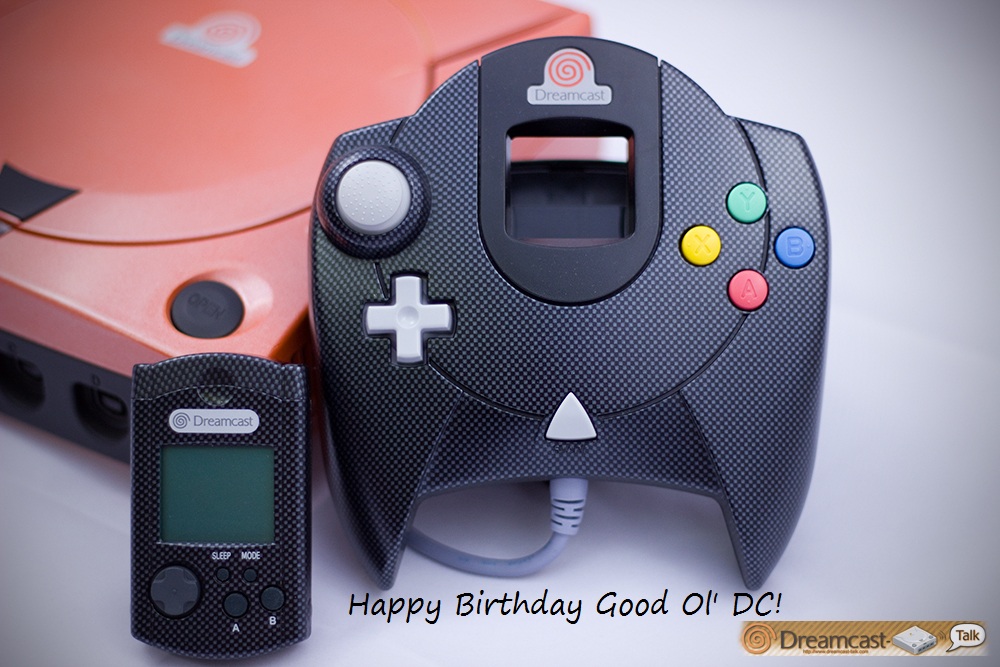 -Impulse


---
6.9.2013
Planet Ring is Back Online! - Comments


Finally, after all this time, IberDC is proud to present you what most of you already knew. The revival of Planet Ring as a Dreamcast online game, what we call "The EarthCall Project" . It has taken time, effort, and countless hours of testing and trial/error but it sure is worth it. The server software we developed is open source so you can learn from it, modify it or improve it as you like. It was coded using SDL, SDLNet and SQlite.




Planet Ring is an online Dreamcast game which features 4 multiplayer minigames, a messenger and a simple HTML like website system (TEML) to show the user pages about anything the server admin could imagine, including images. This was the first console game that had multiplayer gaming while voice chatting people all over the world. It was given away by the Official Dreamcast Magazine number 15 in the UK, it was also sold in stores in Europe. Some other countries like Spain got it for free with the microphone upon getting a certain ISP services.




Check the project's site here https://code.google.com/p/earthcall-project/

In order to make the connection to our server as easy as possible, there's a loader you can use to connect to our server, you can get the loader here And ready to burn in here

Check IberDc's site here : www.dreamcast.es

Here's a video for one of the games, there will be more coming soon:


PLANET RING FEATURES

Minigames:

-Dorobo 2Players(voice chat) -> Treasure hunt, guide the other player through a maze with your voice
-Splash 2Players(voice chat) ->Battleship like game where you have to sink all of your opponent's ships while chatting
-Ball Bubble 4Players -> Get as many bubbles as possible and boycott the rest of the players
-Soar 32Players! -> Different race types using an air pod/ship

Other:

-Messenger system
-TEML
-Online Rankings

Special Thanks to: Impulse, DCTM, BlueCrab, Fuzziqer, Brourke228, Chui, Mekanaizer, Eric and some more people…You know who you are!!!

This project was a joint effort between Dreamcast-Talk.com and Dreamcast.es Enjoy!

-Neoblast


---
2.5.2013
The Ghost Blade - Comments


New shooter from HUCAST - The Ghost Blade – a TATE top down Shooting Game with Caravan and 5 Stage Mode Limited Edition 3-disc set with Soundtrack is now available for pre-order on hucast.com. Only 300 Supporters Edition CE copies are available. Check the HUCAST blog for concept art: http://hucastgames.wordpress.com/


Game Features:

3 Game Modes with 3 player ships too choose from.

Online score leaderboard via code

Screen Orientation:

TATE ( "3:4") and YOKO ("4:3")

Game Modes:

    Stage Mode: 5 Stages
    Caravan Mode: 2 min./5 min.
    Time Attack

Release: TBA 2013



-Impulse


---
11.9.2012
Pier Solar Kickstarter for Dreamcast Version - Comments


Pledge your support for Pier Solar HD and secure a copy http://www.kickstarter.com/projects/573261866/pier-solar-hd-an-rpg-for-xbox360-pc-mac-linux-and

Official website: http://www.piersolar.com/




-Impulse


---
8.1.2012
Geist Force Unveiling - Comments
Unreleased Dreamcast game Geist force is finally recovered. Check out the unveiling and more information:

-Impulse


---
News Archive